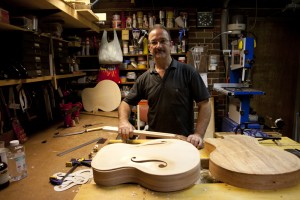 Roderick Octigans' workshop is based in Melbourne Australia, each instrument he creates is designed, crafted and finished entirely by his hand with absolute attention to detail.
Using sustainably sourced native Australian and imported tonewoods, he specialises in and is sought after for his renowned acoustic jazz arch top, hollow body, semi hollow guitars and mandolins. He caters for the discerning musician, both professional player and serious amateur alike, for whom tone, responsiveness, feel and playability are of utmost importance.
His commitment to both the aesthetic and sonic quality of each instrument that leaves his workshop, combined with his love for each stage of creation,mean that in total, hundreds of hours are poured into each piece.From the initial hunt for unique materials, all the way through to expertly applied and buffed lacquer to the finished surface and final setup- as well as every pains taking step in-between.
To Own an Octigan guitar is not to simply own a common musical instrument, but to possess a unique one of a kind artefact that tells a story of the cross sections of handcraft and musical precision…