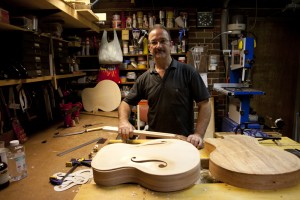 My name is Roderick, and the principal of Octigan Guitars, and as such each instrument produced at Octigan Guitars is hand made by me.  The journey begins with the sourcing of tonewoods through to the final setup.
Being inspired by my grandfather, an award winning luthier himself, I have developed a passion for building beautiful archtop guitars.
When a customer asks me to build their dream guitar, I encourage them to have an involvement right from the beginning.  I instigate a discussion to discover preferences in tonewood species, right through to the type of finish and setup.
The tonewoods I use vary in origin, some are native to Australia and New Zealand and some come from as far away as Europe and the Americas.
As each guitar is unique in its' design, I find the most successful way in which to approach each request is to use one of two basic models, which I add to and embellish to your taste and requirements.  As a result I do not have a range of models to choose from but can definitiely show you an example.